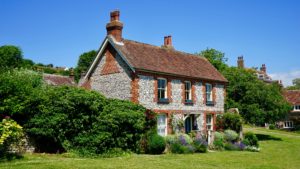 Here at Ecoease, we are always thinking of ways we can be more environmentally-friendly.  Our product is made of PET plastic, for reasons of its warmth, safety and flexibility.  However, it is also 100% recyclable and is actually the most recycled plastic on the planet.  PET has received a lot of bad press over the last few years and we would agree that single-use PET plastic water bottles definitely need to be reduced.  Yet PET plastic which is designed for long-term use can actually help us to reduce our use of other natural resources, such as wood.  In addition, the glass panes in single-glazed windows are generally not recycled or re-used and therefore often get thrown into a skip instead, headed for landfill.
One of the ideas behind Ecoease was the hope that, for heritage and character windows in particular, we could actually help to preserve a bit of history and stop beautiful windows from being ripped out and replaced with uPVC versions.  Secondary glazing can help to improve thermal insulation and reduce condensation and mould building up on the windows – all of which help to preserve the original window.  Moreover, as it is removable glazing it can usually be used on listed property glazing without planning permission.  A bonus of this is in the summer, the Ecoease glazing panels can be removed and the original windows enjoyed, (although thankfully our glazing is quite discreet when in place!)
We continue to work towards a lower percentage of wastage in production and reduced travel distances with the aim of reducing our carbon footprint.  To this end, we are proud to produce and distribute in the UK.
For more about Ecoease and the environment, please see our environment page.  Any questions, feel free to contact us!