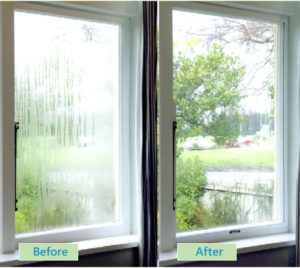 It's that time of year again where everything starts feeling colder, darker and…wetter! With damp weather comes increased humidity both inside and outside your home. Older properties can struggle to cope with this humidity, due to poor ventilation and aging windows, and this can often lead to condensation on your windows. If you are tired of wiping your windows down every morning or investing in de-humidifiers and condensation removal products, we may have the solution for you!
Ecoease secondary glazing is proven to reduce and often entirely eliminate condensation from windows. Neatly-edged, clear PET is fitted to the inside frame of the existing window, and held in place using our magnetic system.
PET is an inherently warmer material than glass, thus increasing the airflow temperature around the room. This makes it less likely that the temperature reaches a 'dew point' where water vapour condenses into droplets that form on cold surfaces. Glass is a very good conductor of heat and hence when it is cold outside, the glass itself is cold. Ecoease panels form a barrier between this cold surface and the falling air, stopping the condensation from forming.
Helen Preston: "I can heartily recommend Ecoease if you're looking for a good quality and good value way of adding secondary glazing to your home. We live in a conservation area in an older property and our windows are not all standard sizes. The glazing is very discreet and looks the part. The house is warmer and there is no condensation!"
If you would like to know more, please see more information about condensation or contact us.
If you're ready to purchase, find out the cost of Ecoease secondary glazing for your windows!