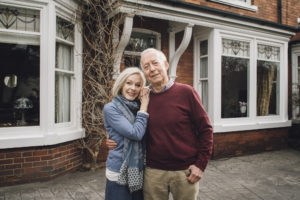 We like it when people say nice things about us – they frequently do! We also like suggestions on how we can improve.
If you have our Ecoease system and would be kind enough to take a moment to give us some feedback with a secondary glazing review, we would be very grateful for your comments.
Below are some of the reviews our customers have sent us about the Ecoease secondary glazing range as well as our team and the service they offer.  You can also see what customers are saying on our YouTube video!  We are very happy to receive reviews on our Facebook or Google Business pages – please contact us if you need any help with this.
Average rating:
34 reviews
Mar 14, 2018
We bought some centre panels for our bay window at the end of November last year in time for the cold weather. We thought we would fit the centre panels first and then measure for the side windows once we had seen the benefits. The three centre panels are completely condensation free! It just shows that it works! We have used ecoease double glazing before and it's been doing a good job in our bedroom for some four to five years.
Mar 14, 2018
I live in an old house with beautiful Georgian wooden sash windows. They are lovely, but draughty and in cold weather dripping with condensation. I have just installed ecoease secondary glazing to one window in my bedroom (which has 2 large windows). The second is waiting to go up. I wanted to see the difference. It was a cold night, so the window without secondary glazing was wet with condensation, but the one with secondary glazing had none. Absolutely dry and clear. Amazing…I didn't really think it could make that much difference, but it does! And no cold air coming in! Now that it has proved itself, I am going to order secondary glazing for downstairs. I hesitated as I thought it might be rather unsightly. But it isn't at all. It is quite subtle, and hardly noticeable. Not like the clunky metal casing of some secondary glazing.This was my first winter in this house, and it was cold. Next winter I will be warm and snug, and my windows will not be further damaged by condensation.Thank you Ecoease.
Feb 13, 2018
I can't recommend this secondary glazing enough. My room is warmer and the condensation is gone - I can actually see my garden now.
Jan 4, 2018
I have to say that I was sceptical when I rang and spoke to the Ecoease team. I thought that secondary glazing would be ugly and not that effective but I couldn't afford double glazing so what the heck! On their recommendation I requested a sample. The very helpful lady said to just give it a try - well she would, wouldn't she. I have to say that it turned out to be sage advice. I have gone on to secondary glaze the whole house and can feel, hear and see the difference. Warmer, quieter rooms and not a jot of condensation. Thank you Anne, I believe my neighbour will be in touch soon!
Thanks Ann without an E! So pleased you are getting the full benefit. I'll look out for your neighbour
Dec 21, 2017
I have used Ecoease units for the last five years, and thoroughly recommend them.I live in a conservation area, which controls windows quite carefully. Secondary glazing is recommended, but this can look very intrusive, especially from inside. The Ecoease units are very discrete, and of course, they can be easily removed in the summer months.My windows are about 100 years old, and quite difficult to draughtproof. The Ecoease panels solve that problem, and also reduce noise from outside.They are easy to fit, as long as you get the measurements right. My only complaint is with the corners, which come unglued after several seasons, but they are not difficult to replace.
Thank you for your balanced feedback. I have never had a problem with the corners before but have contacted our supplier of the adhesive just in case - perhaps it was a faulty batch. I hope the free replacement ones perform better.
Jan 31, 2017
Superb Product
I have just placed my second order for this superb product. The first order ( about 3 years ) ago produced heat savings way above what I expected. I do have 12mm double glazing in the remaining windows and these are affected by condensation. The new units are to go over these. From past experience I am confident that the Eco-ease panels will not only cure that problem but also result in further savings on energy costs and road noise reduction.
Thank you for your feedback Paul. I'm confident that the new ones will do just that!
Jan 6, 2017
Just to let you know the panels arrived today and are a perfect fit. I had ordered Ecoease previously from the original company and the installation and use of them was so efficient that we were able to save over a hundred pounds on our winter quarter heating bills,  this saving went towards the purchase of the panels I ordered from you.

Ecoease really is a wonderful product and very easy to fit, I had wondered if the new owners of Ecoease would be as good to deal with, I can safely say you are.

Thank you for your excellent customer service and prompt delivery, it's unlikely we will need any more panels as every available window is now done but I will not hesitate to recommend both you and the product.
Thank you very much for your kind comments Nicky, here's to further savings!
Jan 3, 2017
Fantastic customer service. I wasn't sure what an exact rectangular secondary pane would look like against the wonky juxtaposed walls of my old barn conversion, so I thought I would try this out first on a window that is a little tucked away (and that I never open).I got the measure to fit option (white), but in the hectic run up to Christmas I gave measurements for the wrong window!It all got sorted in the end: the staff were really, really friendly, accommodating and helpful. You're definitely not just an account number but a real person they care about.It's too early to say whether there is any improvement in insulation but I can say that this glazing looks very neat and unobtrusive, and fitting was easy, despite the window being in an awkward cubby hole.I shall be ordering more.
Thank you very much Dr Stringer, we try to help as much as we can. I'm sure you will love its performance too!
Nov 16, 2016
We have just ordered more secondary glazing as we are so pleased with our past purchases, no more condensation, and it softens the traffic noise,we are very cosy as we had our large bay window covered with it. The staff are very friendly and helpful. It is very easy to install, we highly recommend it.
Thank you so much for your feedback. Enjoy your new panels
Nov 14, 2016
I am fortunate to live in a large detached Edwardian house which was built circa 1905. I discovered Ecoease secondary glazing system and am impressed with the performance.Condensation on the glass has now been solved, noise levels are considerably reduced. and room temperatures are much improved. It is a simple system which is neat, tidy, and easily installed.(Retired Architect - Bristol)
Thank you for the feedback Mr Whittingham, it was a pleasure dealing with you.