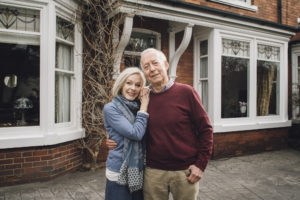 We like it when people say nice things about us – they frequently do! We also like suggestions on how we can improve.
If you have our Ecoease system and would be kind enough to take a moment to give us some feedback with a secondary glazing review, we would be very grateful for your comments.
Below are some of the reviews our customers have sent us about the Ecoease secondary glazing range as well as our team and the service they offer.  You can also see what customers are saying on our YouTube video!  We are very happy to receive reviews on our Facebook or Google Business pages – please contact us if you need any help with this.
Ecoease Secondary Glazing
Average rating:
46 reviews
Mar 3, 2022
Eco-ease Secondary Glazing
I brought two panels to go on our tilt and slide patio doors as a made to measure and diy fit option. These patio doors are white upvc double glazed units but still suffer greatly from severe condensation by virtue of being older and less efficient than the other windows in the room, and because they're 4.2 sqm in area so cool off a lot in cold weather. I came to eco-ease as they are the only company which could supply in the panel sizes required, and we are a bit on the limit as regards what can be fixed with magnetic tape here. The unit arrived safely wrapped in copious amounts of bubble wrap and tape, although some additional stiffening with some thick cardboard might be something to consider for the future. Installation following the provided instructions, along with taking it all gently resulted in a nice result, and very unobtrusive with the white edge trim and corner pieces. The strength of the magnetic tape on this size of panel (1.9 x 1.1m) is good enough for the fixed panel, but for the tilt and slide door panel I added 6 screws through the frame into the upvc frame with countersunk screws finished with white caps. These add the necessary security if the heavy door gets slammed around a bit. Since fitting we have had a number of frosty mornings. I can happily report that condensation has been virtually eliminated which just a tiny amount in one corner. In fact, the other windows look to have a little more condensation which might indicate the u value with the secondary glazing is slightly better than these newer windows. The draught of cold air off the patio window is no longer noticeable. All in all a success.
Thank you for your review Chris. We have optional glazing clips on the site for doors or similar applications should you use a similar solution elsewhere. I'm not surprised that you are noticing a difference. I am glad they are working for you.
Dec 9, 2021
I live in a victorian house which is a listed building and has dark wooden window frames, which although not original, are of a traditional style and unfortunately suffer from condensation, and consequently, heat loss on cold winter nights. Not wishing to put total faith in sales information alone, I decided to run an experiment whereby I ordered DIY panels to cover one half only of side-by-side double windows.

After having these in place during the very cold spring weather earlier this year, I have to say that the results exceeded my expectations. The PET glazed half of the windows had a little,, but really very little, condensation compared with the uncovered sections which had to be wiped dry each morning. Also, during summer, the panels are very easy to lift away to allow window opening. Using the brown magnetic tapes they are very unobtrusive..A simple but effective and economical way to deal with the problem.

I am now about to order panels for the remaining windows.
Thank you very much for your review Steven. I am so glad Ecoease is working for you.
Dec 9, 2021
Excellent secondary glazing
Excellent secondary glazing. Have fitted it to several single-glazed wooden casement windows in our 1930s house. The Ecoease glazing has made a significant difference to comfort, and has reduced condensation in cold weather, and is extremely simple and easy to fit (and to remove in the summer, if desired). Highly recommended.
Thank you Kim. I'm glad you are getting the benefit
Dec 9, 2021
Exceeded expectation!!
We have just moved to an old farmhouse - part double glazed and part single glazed sash windows. Ecoease is the perfect solution for the single glazed sash windows - excellent quality, easy to fit, completely unobtrusive and providing excellent heat saving, draft and noise reduction. Service was also excellent. Thank you.
Thank you very much for your review Phil. It really is great isn't it!
Jan 28, 2021
I didn't want to spoil my Victorian windows having eco-ease glazing looks great and does the job without me having to spoil my lovely old windows . Thank you
Thank you very much for your review Dorn
Jan 25, 2021
I am delighted with the eco ease secondary glazing. The customer support was excellent. My questions were answered promptly and comprehensively.
The secondary glazing arrived in excellent condition and, once I had painted the frames and sticky tape to match our paintwork, fitting them was very straightforward.
They have made a big difference and are unobtrusive . Thank you Ecoease team.
Thank you very much for your review Nicola. I'm so pleased they are working well for you.
Dec 14, 2020
Review No 2 - Second Order
Having received my second order for my hallway windows, I put these up without delay!
The effect was felt straight away, the hallway no longer draughty and cold, especially when walking up the stairs. I really would never have thought Ecoease could make such a difference! Even my children have noticed the additional warmth and they were just visiting. It's easy to put up (providing you follow the instructions), I did both fairly large units on my own, no problem. I'm now recommending to friends and family 🙂 Thank you again Ecoease.
Great to hear Maria. Thank you again for your orders and for taking the time to send in your review.
Dec 3, 2020
Excellent
I live in a 1920s house with leaded lights that I love, so I have just lived with the chilliness of single glazing. During lockdown, I had plenty of time to ponder - and I found out about ecoease's magnetic secondary glazing. Got a sample - brilliant, had me frantically measuring loads of my windows. Ordered, order eagerly anticipated, it finally arrived yesterday - and it's brilliant. I find it unobtrusive, with it blending in to the existing window frames. And when I walk past a window, I am no longer getting that blast of chill that I used to get from the single glazing.

Only thing - it is so well wrapped, you'll find it will take longer to unpack than to put up! (and that's a good thing)
Thank you very much for your review Anne. It really is quick and easy to out up isn't it. It is great how it gets rid of that chill! I have it in my study at home and the difference when I'm working now to before it was up is amazing. I'm so glad its working for you.
Dec 1, 2020
Measure to Fit
My Flat is in a converted (1998) former hospital building (1870) which has 13ft ceilings and perimeter walls with 24 huge sash window sets (in frames 9ft x 3ft). Even though the building conversion introduced double-glazed sash windows they are quite drafty. The ecoease "measure to fit" system works perfectly as my largest (5.5ft x 3.2ft) tertiary glazing panels, look as a natural part of the window frame, seal the drafts but leave an unobstructed view. The PET panels with magnetic edge strips are light enough (I'm 6ft tall and in good shape) for me to conveniently mount and unmount for cleaning and storage in summer. For the large panels I installed I would recommend two people share the effort).
They arrived in excellent condition (perfectly clean, with no scratches or burnishes) and I was able to install them myself (I am an experienced DIY'er). They look great from inside and are not noticeable from outside.
I very much appreciate the selection/use of PET as the recyclable glazing material. My only concern is that much of the packaging material used to protect the panels during shipping/delivery are not recyclable (bubble wrap, plastic foam edge strips, etc.)
I started by ordering just two (for different window frame sizes) trial glazing panels to see if all went well. I'm extremely pleased with them and will now order panels for the rest of the windows in my Flat.
Thank you very much for the review James. I'm glad the system meets the needs of what sounds like a very characterful property. We are constantly looking for packaging materials that can protect the sheets well enough and not be cost prohibitive for our customers. A lot of people reuse or up cycle the bubble wrap and the edging has been used in art projects!! Packaging solutions are evolving apace and hopefully this is something we can improve on in the future.
Dec 1, 2020
As an Addendum
I'd like to also thank the staff for dealing with my queries and being so pleasant in doing so! Nice to know there are friendly and helpful people at the other end of a phone!
An absolute pleasure Maria. Very happy to help 🙂
Page 1 of 5:
«
‹
1
2
3
4
5
›
»