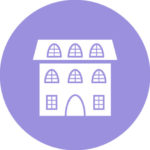 Ecoease secondary glazing for listed buildings
Suitable for almost all windows, Ecoease can provide secondary glazing for listed buildings and character properties, where conventional double glazing is restricted.  We have many happy customers who have used our system in just such applications, from 200-year-old cottages to Scottish castles, from stately homes to country estates.
Period properties often have beautiful bespoke windows which reflect the craftsmanship of a bygone age, such as sash windows. Unfortunately, as aesthetically appealing as they are, living in the world today presents us with many more challenges to our peace and comfort.
The benefits of installing Ecoease secondary glazing in a character or listed property
Planning permission is not required as our magnetic glazing panels are removable.
The Ecoease panels can help to preserve the condition of your older windows, helping them to last for longer. The increase in air temperature between the panel and the original window helps to reduce damaging condensation and mould.
Ecoease glazing panels are more discreet than metal secondary glazing in particular and offer the option to take the panes down easily in the summer.
Older properties without modern sound insulation can benefit from a reduction in external noises.
Easy installation which doesn't impact on your original window – there is no need to remove window frames or re-­‐fit architraves or window furnishings.
With our DIY system, you can choose different options which may suit older-style windows, such as brown magnetic tape, enabling excellent secondary glazing for sash windows, for example.
Secondary glazing review
The Harpur Crewe family has run the estate in Ticknall since the 1500s and installed Ecoease's secondary glazing in a number of their listed properties.  Amy Biddell of chartered surveyors Mather Jamie, operates on behalf of the Harpur Crewe LLC estate and outlined their approach:
"Installing secondary glazing is an easy way to improve the thermal efficiency of a property without causing much upheaval for residing tenants. Ecoease is not only easier to install than glass secondary glazing, it is also significantly cheaper and we have also been advised by our EPC assessor that it is more thermally efficient than glass. A full time clerk of works, employed on the Estate, fits the Ecoease glazing within the Estate cottages and can usually install within an entire property in one to two days.

The Harpur Crewe LLC strives to provide a good standard of properties for its tenants and is always looking for new ways and products like Ecoease to assist in achieving this…The Ecoease secondary glazing has had a positive impact on the energy performance of the Estate Cottages and in many cases, along with loft insulation and low energy light, has enabled us to move many properties EPC ratings into band E and above."
Where installation of double glazing is not permitted due to building regulations, Ecoease is the perfect solution, providing you with a warmer, quieter home, a reduction in condensation and a quick and easy installation process.
Ready to purchase? Visit our shop to check the prices of Ecoease secondary glazing for your windows!