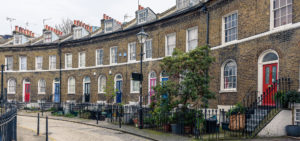 We are fortunate that many beautiful character properties can be found throughout the UK. In fact, 1 in 5 houses in the UK were built pre-1919, although many have been altered since. However for some, the windows in these lovely houses can cause issues such as mould and draughts. These can be difficult and costly problems to solve. Moreover, if the property is listed and subject to planning permission for major changes, it can seem very difficult to improve your living situation.
Ecoease is designed to help! Our secondary glazing panels can be fitted without planning permission as it is classed as removable glazing i.e. it is not a permanent feature. Built to last, it is UV-stabilised to prevent deterioration in sunlight. This means that Ecoease can keep your heritage window drier and less mouldy throughout the damp winter months. In addition, it is much more affordable than double glazing, which can cost up to 80% more than Ecoease glazing panels.
Other benefits of using Ecoease secondary glazing in your character property include increased warmth, a reduction in condensation, fewer external noises entering your house and a long-term saving on your energy bills.
If you would like to find out how much Ecoease would cost in your home, we are always happy to help. Please contact us easily and quickly by phone or on our website.
For more information, please see our Ecoease Benefits information, or our Character Properties details.