How to fit Ecoease Measure to Fit secondary glazing panels
Fitting our Measure To Fit secondary glazing panels is remarkably easy. However, there are a few simple things which can make it even easier. If it's a large panel a spare pair of hands can help.
Firstly, when your panel arrives and before you remove the protective film, try it up against your window to make sure it is the right size.
Then, wipe down your window frames with methylated spirits or a similar degreaser to ensure that your panels will stick well.
Slowly pull off the protective film on the back of the panel. This is the side with the tapes on that will go nearest the glass. If you rip it off quickly you will get static electricity and dust flying to it! DO NOT remove the film from the outside of the panel at this point.
Next line up the blue backed steel tapes with the grooved magnetic tapes again. They may have slipped in transit. Now peel off the blue backing.
You are ready to offer up the panel to your window frame.
If you have a window ledge you can use this to balance the panel and allow you to "walk" it up to the window.
When the panel is in place, run your thumb over the white edging strip to make sure it's well stuck.
Finally, slowly remove the film from the front of the panel and you are done!
A last point…NEVER REMOVE THE BLUE BACKED, WHITE STEEL TAPE AND PUT IT ON TO YOUR WINDOW FRAME SEPARATELY. YOU WILL NEVER MATCH IT UP AGAIN!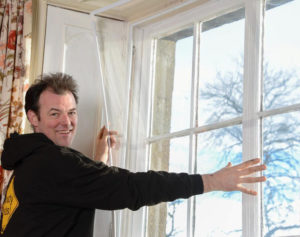 Putting the whole thing up as one is easier and ensures a perfect match.
Maintenance
PET secondary glazing panels should be cleaned using either warm soapy water or a mild furniture polish (without alcohol.) Always apply with a damp soft cloth such as a microfibre one. Finally, do not use anything abrasive to clean your panels and do not use a dry cloth.