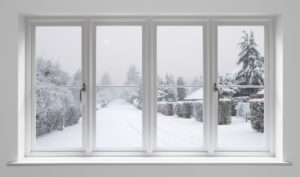 The UK's coldest month is here. While it is officially the last month of winter, February is generally our coldest (and sometimes our snowiest) month.  All this cold weather can make it hard for older houses in particular to get (and stay) warm, but Ecoease secondary glazing can help!
Our PET secondary glazing panels can be fitted to almost all single-glazed windows, from extremely small door windows to large Georgian windows*, provided there are not protruding handles or locks.  Once fitted throughout the house, thermal insulation can be improved by up to 63%, which is more efficient than double glazing.
Windows can be a major area of heat loss in the home and Ecoease can be the solution to two major issues where secondary glazing is concerned:
"My house is listed and therefore I can't make alterations to my windows".
As Ecoease secondary glazing can be easily removed and is non-invasive, it is classed as temporary glazing and is permitted to be added to listed and heritage windows.
"I can't afford double glazing on all my windows".
Our PET glazing panels are considerably more affordable than another layer of glazing and have other benefits too, such as reducing external noises as well as being 100% recyclable, unlike conventional glazing.
You can find out more about the benefits of Ecoease secondary glazing on our website and if you would like to find out how much our made-up glazing panels would cost for your window sizes, you can enter them here and find out instantly!
We are always happy to discuss your glazing requirements so do get in touch if you have any questions.
*Max. size 1m x 2m.