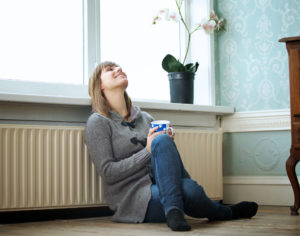 Bonfire and firework celebrations are over and winter is beginning in earnest now, bringing cold weather as well as more rainy days. Yet staying warm and comfortable over the winter can be easy, even with a small budget.
A massive 48% of heat can be lost through windows in a standard, insulated home. While some of this can be due to poor draught-proofing, a large majority of homes can simply be made warmer with a second (or sometimes third) layer of glazing. At a fraction of the cost of double glazing, secondary glazing can reduce the amount of heat lost by up to 63%.
Ecoease secondary glazing can be used on almost all window types from older, single-glazed windows to more modern, perhaps ill-fitting, double glazing; from sash windows to 300-year-old window frames. With our easy Measure To Fit system, you simply measure your windows, we produce and send your magnetic glazing panel to you and you install it onto your current window frame within minutes – no expert help required – no tools or DIY skills! The difference is instant and noticeable:
Jane B-P: The double glazing worked very well on a difficult bay window, where there was a lot of condensation causing mould, ruined curtains etc. Since we live in a listed building we couldn't change the window itself, but are allowed to use removable double glazing. Ecoease was a wonderful solution, and the staff were very helpful. It worked perfectly, we are now much warmer, and there is no condensation at all. We are now buying more panels to install on our sash windows.
Find out more about Ecoease and how it can help you to solve your window issues, even on a small budget!